Jumpstart Your Hospitality Career with Oban Hotel Jobs in Lahore, 2023
The vibrant city of Lahore is rapidly becoming a hub for luxury hospitality. Exciting new job opportunities have arisen for talented professionals at the Oban Hotel Lahore. With openings in 2023 across departments like Food and Beverage, Front Office, Housekeeping and more, Oban Hotel invites dynamic team players to apply now.
Read on to discover everything you need to know to launch your hospitality career with Oban Hotel Lahore.
Introducing Oban Hotel Lahore
Part of the famed Serena Hotels group, Oban Hotel Lahore boasts 5-star amenities in a prime location. Nestled near Lahore's commercial districts and historic sites, Oban Hotel features 115 lavishly decorated rooms, award-winning restaurants, banquet halls, a spa, fitness center and outdoor pool.
Since beginning operations in 2020, Oban Hotel Lahore has established itself as the city's premiere luxury accommodation for business and leisure travelers. Their commitment to personalized service and authentic Pakistani hospitality has earned rave reviews.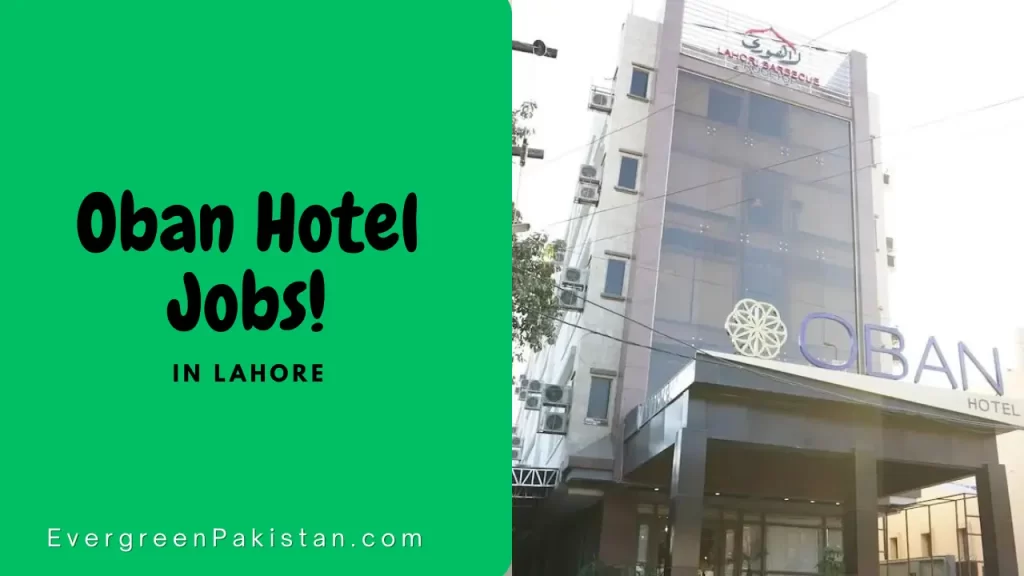 Oban Hotel Job Openings for 2023
To support their rapid growth and uphold top-tier service standards, Oban Hotel Lahore is now hiring for multiple new positions for 2023. Open jobs across various departments include:
Continental Chef
Purchase Officer
Female Guest Relations Officer
Food and Beverage Manager
Restaurant Cashier
Chinese Cook
Executive Housekeeper
Front Office Staff
Financial Controller
Sales Manager
From chefs to finance officers and front desk staff, Oban Hotel welcomes energetic applicants at all experience levels. However, customer service skills and a can-do attitude are a must.
Key Responsibilities
While specific duties will vary by role, key tasks new Oban Hotel hires can expect include:
Ensuring seamless, personalized guest experiences
Consistently delivering 5-star service
Maintaining immaculate facilities and amenities
Building positive customer relationships
Performing operational and administrative tasks
Collaborating harmoniously with cross-departmental teams
Adhering to quality, compliance and service benchmarks
Supporting marketing, sales and banquet events
Dedication, adaptability and a stellar work ethic are vital to achieving organizational goals.
Required Qualifications
To qualify for the open opportunities at Oban Hotel Lahore, applicants must have:
Matriculation, bachelor's or master's in relevant field
2-5 years prior work experience in hospitality/hotels
Exceptional communication and people skills
Basic computer proficiency (MS Office, emails)
Strong team collaboration ability
Outstanding grooming and professional conduct
Availability for 24/7 shift work including weekends
Passion for delighting customers and problem resolution
While formal education is preferred, determined candidates who display the right attitude may still be considered. Previous experience at reputed hotels is a major plus.
Notable Benefits
Beyond enriching growth opportunities, Oban Hotel staff enjoy attractive perks like:
Competitive compensation plus performance bonuses
Free accommodation and meals during work hours
Complimentary access to hotel guest amenities
Discounts on F&B outlets and spa services
Financial support for professional development courses
Clear career progression pathways
Stimulating, prestigious work environment
Flexible scheduling and shift adjustments
Supportive, collaborative team culture
Global transfer opportunities within Serena Hotels
Oban Hotel invests extensively in helping employees maximize their potential while enjoying an engaging work experience.
Application Process
Excited applicants for any of the open job positions at Oban Hotel Lahore should email their detailed CV and recent photograph to [email protected] by August 7, 2023.
Your CV must highlight your educational background, prior relevant experience, key skills and contact details. Specify which role you are applying for in the subject line.
After initial screening, shortlisted candidates will be invited to interview. Selections will be made based on individual performance in the interviews, skills assessments and alignment with Serena Hotels service philosophy.
Tips to Stand Out
When applying to Oban Hotel Lahore jobs, make yourself stand out by:
Demonstrating passion and knowledge about hospitality in your CV
Detailing examples of how you've delighted customers
Showcasing any achievements or awards in hotel work
Highlighting experiences with luxury brands or services
Customizing your CV to the department and role
Exhibiting eagerness to learn during interviews
Asking thoughtful questions about training and career growth
Sending prompt thank you notes post-interview
Conclusion
The exciting new openings at Oban Hotel Lahore in 2023 offer a chance to jumpstart your hospitality career. Gain exposure to luxury hotel operations while delivering elite experiences. With your dedication and Oban Hotel's support, you will be on the path to accomplishing great things in the thriving travel, tourism and hospitality landscape of Pakistan. Apply today for a rewarding new chapter!